Archive for April, 2009
Apr 10, 2009 Photography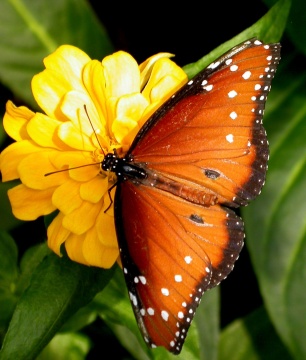 When it comes to decorating, gifts and crafts, there are few images that are quite as useful and versatile as pictures of butterflies. Read on to learn about where you can get the most stunning butterfly pictures, and a projects that you can use them in to create a memorable gift for a child.
Where to Find Pictures of Butterflies
While you could search the internet for hours looking for the ideal butterfly photos or images, the best place to find the pictures of butterflies to suit your needs is to take them yourself. You don't need a high-powered professional camera to take beautiful puctures of butterflies, all you need is a decent camera with optical zoom and a little bit of patience. Make sure your camera has a high optical zoom, at least 7 to 10x. Avoid using digital zoom for these kind of photos because it distorts the fine details that make these pictures so beautiful. The camera should also have macro mode, which allows you to zoom in with your lense only a few inches from the object, with the object remaining clearly while the background is blurred.

Read the rest of this entry »
Tags: Butterflies, snapshots
Apr 2, 2009 Photography
Great photos come with experience, but there are a few tips and tricks you can learn from the experience of others to help you improve your photographing experience. Listed below are eleven of them:
1. Use the tripod and self-timer of your digital camera. These two things will give you better chances to take sharper and clearer photos.
2. Keep the background tidy and clean. Before taking the photo, remove all things that you don't want to include in it from the area. This will also help you focus on the subject without having your eyes distracted by the surroundings.
3. Place the camera as close as you can. Look into the screen of the camera and make sure that the things you want in the photo almost fill it. Using the macro function can really help. Look into the manufacturer's manual to see how to use it and which distances are appropriate.

Read the rest of this entry »
Tags: photography tips
Apr 2, 2009 Photography
Any kind of artistic representation including, photographs, sculptures, paintings and many others, in which expression and face of a person is main known as portrait. It is a way of demonstrating the passion of the personality, resemblance and the current mood of the person as well. Taking photographs is not usually a snapshot. Rather, it is a collected picture of individual in motionlessness or in a kind of still position; while portraits show the individual looking straight at the photographer or artist. There is a reason behind looking at the direction of the artist because by doing so artists are able to engage the person to the viewer or the spectators effectively.
Portrait comes in different forms such as self-portrait, portrait paintings and so on. There are uncountable portraits but one of the most famous as well as the well known portrait is the "Mona Lisa" drawn by Leonardo da Vinci. This portrait is famous all over the world and doubtless, no painting is more attractive compared to "Mona Lisa". It is a painting of an unknown smiling woman. Portrait photography is nowadays a well known and widely used money-making industry all over the world. There are numerous people enjoy having special portraits to commemorate certain events, such as graduations or weddings.

Read the rest of this entry »
Tags: portrait